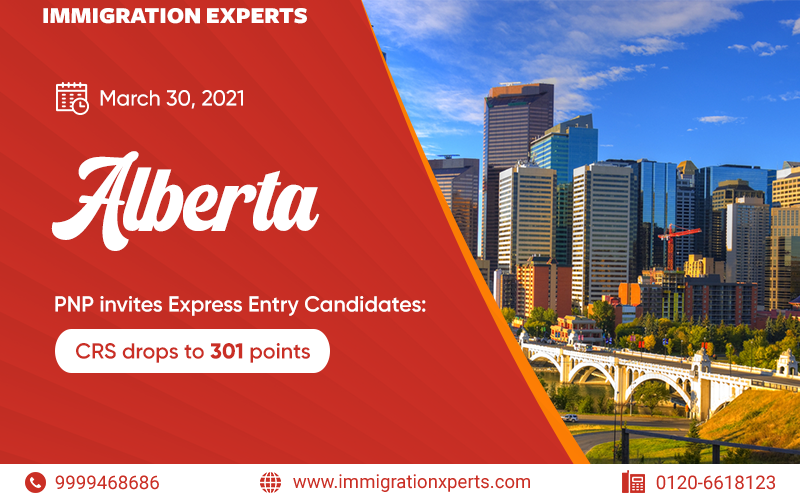 March 30, 2021
Alberta has till now issued a total of 1009 invitations to the eligible Express Entry Applicants to apply for the provincial nominee program so far in the year 2021
The province of Alberta has invited skilled and professional Express Entry applicants to apply for their provincial nominee program in the recent draw which took place on March 26, 2021.
A total of 300 Express Entry applicants have been invited through the Alberta Immigrant Nominee Program (AINP) under the Alberta Express Entry Stream. Yet again, for this draw also, candidates only needed a Comprehensive Ranking System (CRS) score of minimum of 301 points.
In order to get the invite through Alberta's recently held Provincial Nominee Program (PNP), candidates are required to have their profiles already submitted towards the Express Entry System.
Express Entry System is the main and foremost application management system of Canada for the three renowned Federal High Skilled Immigration streams, which includes the Federal Skilled Worker Program, the Canadian Experience Class and the Federal Skilled Trades Program.
Eligible immigration applicants are given a score point on the basis of the Comprehensive Ranking System (CRS). These points are awarded to the candidates for human capital factors which the government has determined and assists the prospective candidates that have applied for immigration to succeed in the Canadian labour market. These factors include the applicant's age, education, and employment experience, language proficiency in English and French, along with others.
In a gap of every weeks, the immigration department of Canada, that is, Immigration, Refugees and Citizenship Canada (IRCC), frequently holds Express Entry Draw, thereby inviting applicants to apply for immigration to Canada. All the highest scoring candidates receive an Invitation to Apply (ITA) for the permanent residence of Canada. If they get approved, then they receive a Confirmation of Permanent Residence Visa which then enables them to proceed towards the final step and make their landing in Canada, after which they become the official permanent residents of Canada.
If the applicants who receive an invitation to apply from the provincial government of Alberta receive the provincial nomination, they automatically get awarded with 600 additional CRS points towards their existing scores in the EOI. This implies that the invited candidates who already have scores equivalent to the minimum required points in this particular draw would be able to increase their CRS scores up to 901 points.
Alberta Express Entry Stream
The Alberta Provincial Nominee Program is for those Express Entry candidates who have mentioned string ties with Alberta and who have established in their application that they are capable to support the economic development and diversification plans of the province. During the pandemic situation, Alberta is the only one considering applicants who are already inside the province and are either living or working there.
Applicants are also needed to have a prior work experience in one of the eligible occupations as Alberta has recognized list of occupations that are not eligible for the requirement of the Alberta Express Entry Stream.
The provincial government of Alberta was allowed to issue a total of 6,250 nomination certificates in the year 2020. However, due to the restrictions imposed amidst the pandemic situation, the same was reduced to 4,000 nominations. All of these nominations were issued until June 2020 and therefore no draws released by the AINP in the second half of the year.
The total number of provincial nominations that were allocated to the AINP for the year 2021 are yet to be disclosed.
At Immigration Experts, we guide your clients with the best possibilities of moving to Canada (https://www.immigrationxperts.com/canada-immigration/reasons-to-immigrate-canada/) with regards to their professional background.
To Stay Updated on Canada Immigration News, Subscribe to Immigration Experts NEWSLETTER: https://www.immigrationxperts.com/newsletter/
We request you to fill up our Free Evaluation Form and take the initial step towards your Visa and Immigration Process.
We are available for ONLINE CONSULTATION!
Contact Immigration Experts for FREE Points-Based Assessment of your profile:
Drop us an email at: info@immigrationxperts.com
Give us a call at: +91-9999467686, 0120-6618011, 0120-6618123
Book your appointment with our experienced immigration counselors and solve all your immigration related queries at the comfort of your home. 
We are available on Skype (Immigrationxperts.com), Google Duo and Zoom calls.
Achieve your Immigration dreams with Immigration Experts.
#ImmigrationExperts #Immigration #CanadaImmigration #PermanentResidenceVisa #PRVisa #CanadaPRVisa #CanadaPR #PNP #ProvincialNomineeProgram #ImmigrationExperts #BestImmigrationConsultants #Delhi #Noida #NCR