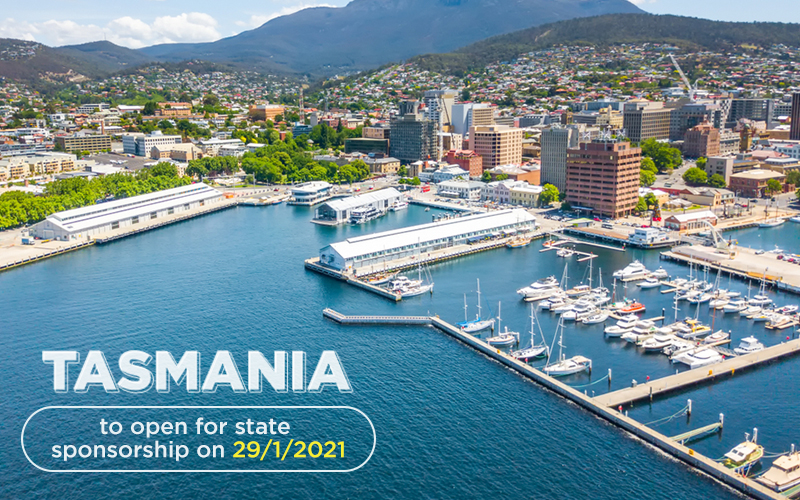 The Tasmanian Nominated Skilled Migration Program will reopen with updated requirements to general applications on 29 January 2021 at 1pm (AEDT).
Until this time interim program restrictions remain in place.
Please note:
Due to related system maintenance, online application access will be shut down at 5pm (AEDT) 28 January 2021 and all draft applications on-hand will be closed and archived.
Online application access will then reopen 29 January 2021 at 1pm (AEDT). As there will be new requirements and compulsory documents, please ensure that you read all program updates prior to commencing your application.
SKILLED MIGRATION PROGRAM
Tasmania has now received its full nomination quota for the 2020 – 21 program year. The full allocation is made up of:
Subclass 491 – 1400 places
Subclass 190 – 1000 places
Business migration – 45 places
Approximately 25% of skilled visa nomination places have been used.
Migration Tasmania is currently adjusting selection requirements and policies to reflect the expectations and priorities set out by the Department of Home Affairs, with the expectation of opening to general applications in late January 2021. Until this time, the interim program arrangements below will continue to operate.
Visa holders who do not meet the interim requirements but who believe they have exceptional circumstances warranting consideration of nomination should contact Migration Tasmania at skilled@migration.tas.gov.au before lodging an application. Imminent visa expiry on its own is not a sufficient reason to prioritise a case.
Source : https://www.migration.tas.gov.au/news/2020-2021_program_year_update
To Stay Updated on Canada Immigration News, Subscribe to Immigration Experts NEWSLETTER : https://www.immigrationxperts.com/newsletter/
We request you to fill up our Free Evaluation Form and take the initial step towards your Visa and Immigration Process.
We are available for ONLINE CONSULTATION!
Contact Immigration Experts for FREE Points-Based Assessment of your profile:
Drop us an email at : info@immigrationxperts.com
Give us a call at: +91-9999467686, +91-8448587890, 0120-6618011, 0120-6618123
Book your appointment with our experienced immigration counselors and solve all your immigration related queries at the comfort of your home. 
We are available on Skype (Immigrationxperts.com), Google Duo and Zoom calls.
Achieve your Immigration dreams with Immigration Experts.