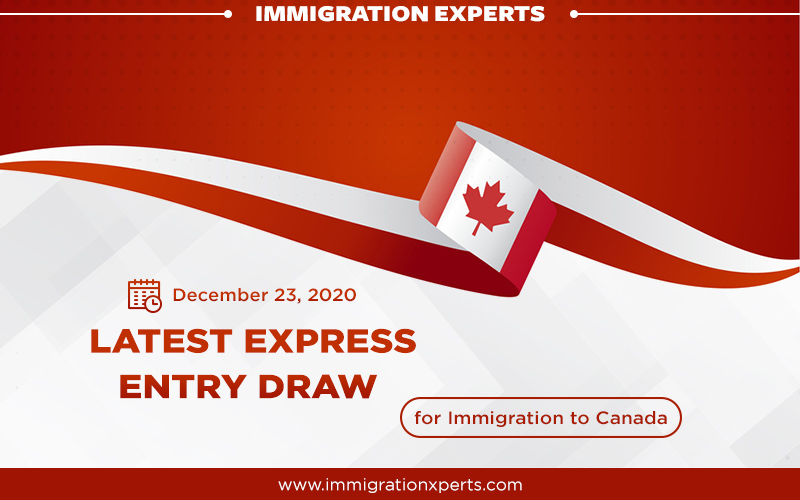 Details of the Canada Express Entry draw released on December 23 are as follows:
The December 23 Express Entry draw is an all-program draw, which implies that candidates from all immigration categories that have applied under Federal Skilled Trades (FST), Canadian Experience Class (CEC) and Federal Skilled Worker (FSW) programs as well as the provincial nominees will be considered. A total of 5,000 eligible and skilled applicants will receive an Invitation to Apply (ITA) in this latest draw for immigration to Canada. Also, the Comprehensive Ranking System (CRS) cut-off score threshold for this particular draw was equivalent to 468 points. The tie-breaking rule was applied for this draw on all those profiles that were submitted at a point score of 468 points after June 04, 2020 at 13:39:44 UTC.
This particular draw marks the fourth-consecutive draw that is being released with a purpose to issue a record level of 5,000 invitations. In order to achieve the target of issuing ITAs to a larger number of eligible applicants, the CRS score has dropped to a single point to 468 points in this latest draw, which in turn has made this the lowest CRS score cut-off for the year 2020, specifically for an all-program draw.
To Stay Updated on Canada Immigration News, Subscribe to Immigration Experts NEWSLETTER: https://www.immigrationxperts.com/newsletter/
We request you to fill up our Free Evaluation Form and take the initial step towards your Visa and Immigration Process.
We are available for ONLINE CONSULTATION!
Contact Immigration Experts for FREE Points-Based Assessment of your profile:
Drop us an email at: info@immigrationxperts.com
Give us a call at: +91-9999467686, +91-8448587890, 0120-6618011, 0120-6618123
Book your appointment with our experienced immigration counselors and solve all your immigration related queries at the comfort of your home. 
We are available on Skype (Immigrationxperts.com), Google Duo and Zoom calls.
Achieve your Immigration dreams with Immigration Experts.