After the new NOC structure (ver. 2021) was successfully implemented, the British Columbia Provincial Nominee Program (BC-PNP) conducted five draws for the first time on November 28, 2022. Draws were conducted under the Express Entry BC (EEBC) and Skills Immigration (SI) programs for certain tech, healthcare, and academic vocations.
334 skilled professionals in all were given the opportunity to apply for permanent residency in British Columbia. The following are the draw's details, including the number of invites and the minimum score needed in each category: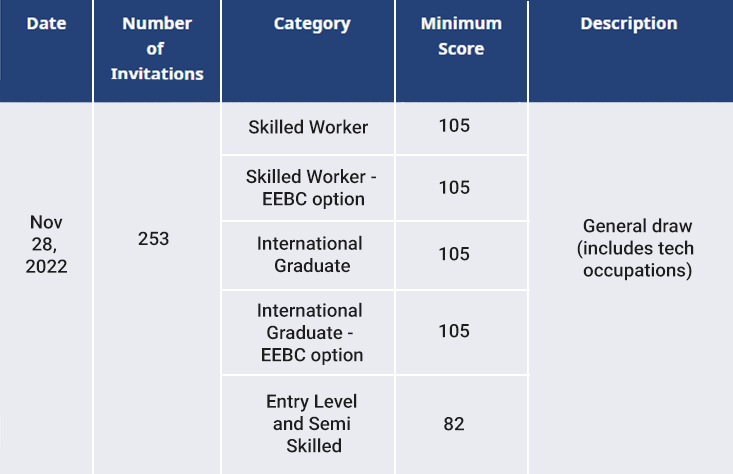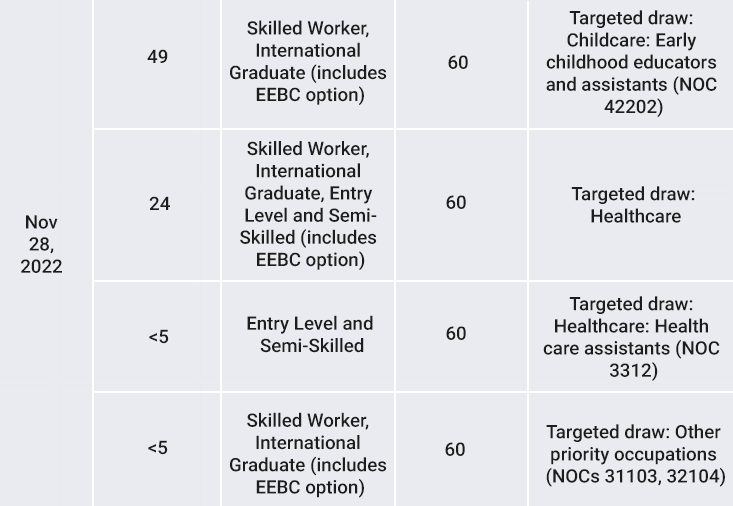 *Only applicants who reach the minimal score and have employment offers from areas outside than Metro Vancouver Regional District are included in the regional.
At Immigration Experts, we guide your clients with the best possibilities of moving to Canada (https://www.immigrationxperts.com/canada-immigration/67-canada-immigration-point-system/) with regard to their professional background.
To Stay Updated on Canadian Immigration News, Subscribe to Immigration Experts
NEWSLETTER: https://www.immigrationxperts.com/newsletter/
Fill up our Free Evaluation Form and take the initial step toward your Visa and Immigration Process. We are available for ONLINE CONSULTATION!
Contact Immigration Experts for a FREE Points-Based Assessment of your profile: Drop us an email at: info@immigrationxperts.com
Give us a call at +91-9999467686, 0120-6618011, 0120-6618123
Book your appointment with our experienced immigration counselors and solve all your immigration-related queries.
Achieve your Immigration dreams with Immigration Experts