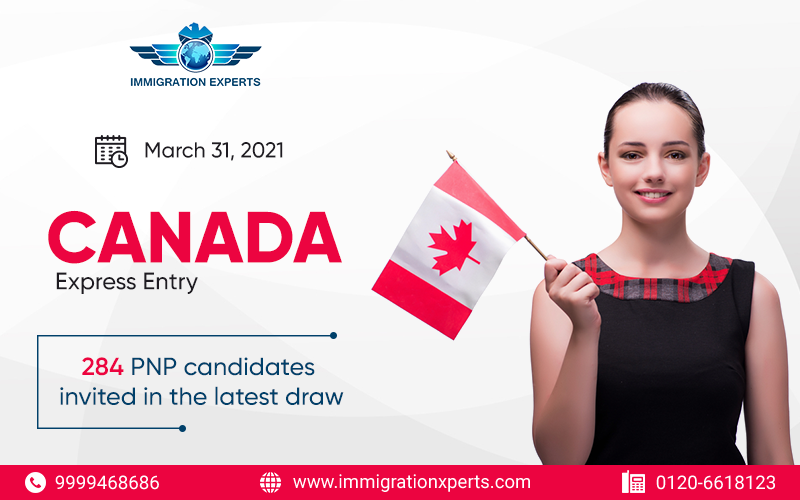 An increased number of candidates are invited in the latest draw to apply in this recent draw than the previous PNP specific draw.
April 1, 2021
Canada announced a new Express Entry draw recently on March 31 and has invited a total of 284 skilled immigrants to apply for their permanent residence program.
However, all these invited candidates are required to have a nomination from one of the Provincial Nominee Program (PNP) to be able to receive an Invitation to Apply (ITA) and therefore because of this reason, the Comprehensive Ranking System (CRS) cutoff score was equivalent to 778 points for this draw.
The new score is high when compared to the previously held draw as the cut-off score for the previous one was equivalent to 449 points, but the PNP candidates will be eligible to automatically receive an additional 600 points in addition to their existing CRS points as soon as they will receive a provincial nomination. This can also be understood as that the lowest-scoring applicants would have had only 178 CRS points without having the provincial nomination being received in their Express Entry profiles.
Candidates who only had the minimum score of 778 points were only considered if they have already submitted their Express Entry profiles before March 16 at 16:09:32 UTC according to the tie-breaking rule. The tie-break rule is published by the Immigration, Refugees and Citizenship Canada (IRCC) as an important administrative requirement, irrespective of the fact that whether there was an actual tie in the draw.
This draw continues the current trend in the Express Entry Draws being released by the Government of Canada where they have restricted all draws only to two categories that are either for the Provincial Nominee Program (PNP) candidates or for the Canadian Experience Class (CEC) candidates. However, due to the current unpredictable scenario, there are no further details available as to when the draws for the candidates in the other immigration categories that are, Federal Skilled Worker (FSW) and the Federal Trades Worker (FST) immigration programs will resume again.
If the recent trend continues in a similar manner, we can expect another CEC draw to be announced in the gap of the next day or two. Any further updates related to the same will be notified here at our website.
At Immigration Experts, we guide your clients with the best possibilities of moving to Canada (https://www.immigrationxperts.com/canada-immigration/reasons-to-immigrate-canada/) with regards to their professional background.
To Stay Updated on Canada Immigration News, Subscribe to Immigration Experts NEWSLETTER: https://www.immigrationxperts.com/newsletter/
We request you to fill up our Free Evaluation Form and take the initial step towards your Visa and Immigration Process.
We are available for ONLINE CONSULTATION!
Contact Immigration Experts for FREE Points-Based Assessment of your profile:
Drop us an email at info@immigrationxperts.com
Give us a call at: +91-9999467686, 0120-6618011, 0120-6618123
Book your appointment with our experienced immigration counselors and solve all your immigration-related queries at the comfort of your home. 
We are available on Skype (Immigrationxperts.com), Google Duo and Zoom calls.
Achieve your Immigration dreams with Immigration Experts.
#ImmigrationExperts #Immigration #CanadaImmigration #PermanentResidenceVisa #PRVisa #CanadaPRVisa #CanadaPR #PNP #ProvincialNomineeProgram #ImmigrationExperts #BestImmigrationConsultants #Delhi #Noida #NCR