Each month, the processing times for all visas are revised. They often provide you the age of applications that were approved in the previous month.
Many of the applications that were recently completed had been waiting while the borders were blocked due to COVID. These applications are being completed as the borders reopen and more people become eligible for travel. The published processing times will reflect the age of these older applications once they are finalised.
Additional processing timelines details for various visas are available for recently submitted applications. For the Visitor and Working Holiday Makers visa programmes, the processing time is computed from the date an applicant became eligible to travel following the reopening of Australia's borders in order to provide new applicants a better idea of approximate processing timelines (or the date they applied, if after border reopening).
Updated processing times for visas worldwide. The most recent processing times for popular visas are listed below: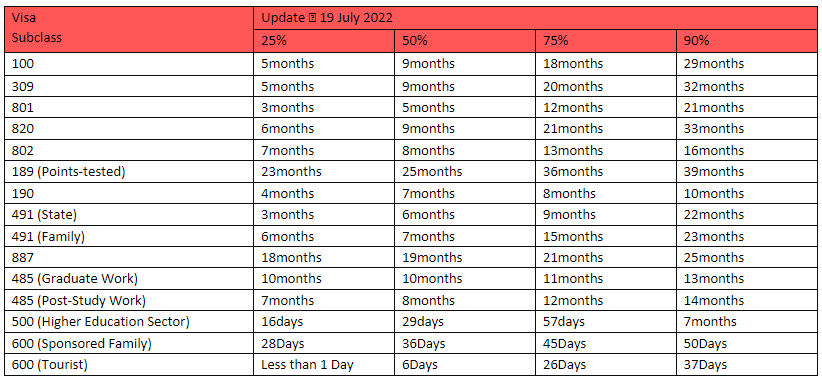 Get processing times for other visas here: https://immi.homeaffairs.gov.au/visas/getting-a-visa/visa-processing-times/global-visa-processing-times
At Immigration Experts, we guide your clients with the best possibilities of moving to Australia (https://www.immigrationxperts.com/australia-pr-points-calculator/) with regards to their professional background.
To Stay Updated on Australia Immigration News, Subscribe to Immigration Experts
NEWSLETTER: https://www.immigrationxperts.com/newsletter/
Fill up our Free Evaluation Form and take the initial step towards your Visa and Immigration Process. We are available for ONLINE CONSULTATION!
Contact Immigration Experts for FREE Points-Based Assessment of your profile: Drop us an email at: info@immigrationxperts.com
Give us a call at: +91-9999467686, 0120-6618011, 0120-6618123
Book your appointment with our experienced immigration counselors and solve all your immigration-related queries.
Achieve your Immigration dreams with Immigration Experts