Separate data from the Ministry of External Affairs (MEA) and the Ministry of Home Affairs (MHA) show that during the first nine months of 2021, more than 1.1 lakh Indians renounced their citizenship in favour of that of another country, while India granted citizenship to 4,177 foreigners in the five years between January 2016 and December 2020.
As of December 12, 2021, the MHA has received another 10,635 applications for Indian citizenship. Even if all of them are granted citizenship — which seems doubtful given the amount of applications approved in each of the last five years — the total number of foreigners who become Indians would be only 14,815.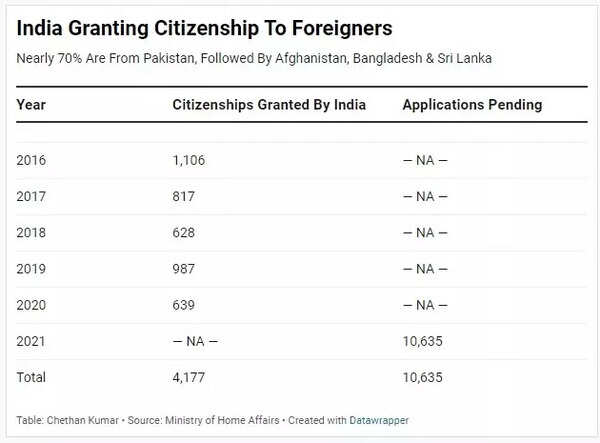 In comparison, according to MEA statistics, approximately 6.1 lakh Indians become foreign nationals between 2017 and 2021, with more than 8 lakh if 2016 data is included.
"...the number of Indians selecting citizenships of other countries, especially developed ones, is projected to continue as has been the trend," says Vikram Shroff, Leader, HR Law at Nishith Desai Associates. However, a few nations, especially several smaller European and non-North American countries, are continuously making it simpler for brilliant individuals to achieve residence, which makes it easier for them to obtain citizenship."
Another analyst stated that given India's vast population, resources and opportunity are going to be scarce, and people would be forced to seek abroad. "...While some nations, such as the United States and the United Kingdom, have visa limits, many others are trying to recruit strong people from around the world, and Indian citizens view this as an opportunity," he added.
Country-wise Analysis
According to a country-by-country study of the statistics, 42 percent of the more than 6 lakh Indians who renounced their citizenship became US citizens in the five years, while one in every two Indians who renounced their citizenship became US citizens in the first nine months of 2021.
Following the United States, Canada granted the most citizenships to Indians (91,000) during the time, followed by Australia (86,933), England (66,193), and Italy (66,193). (23,940). Another 83,191 Indians were awarded citizenship by 86 additional countries.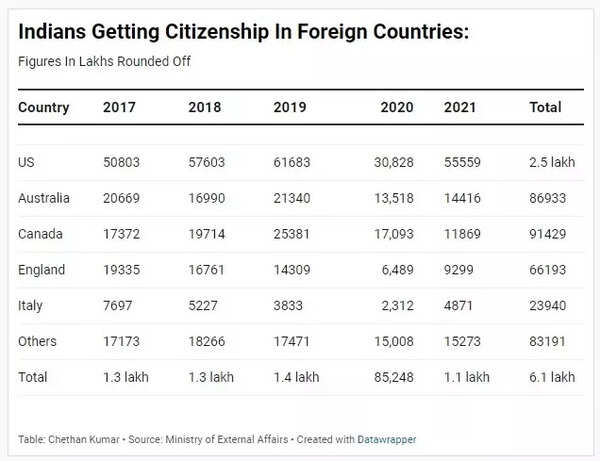 While there is no country-by-country breakdown for persons awarded Indian citizenship in 2020, statistics from 2016 to 2019 plainly demonstrates that the majority of them are neighbours and from the United States. Pakistanis (2,405) account for 68 percent of the 3,538 persons who obtained Indian citizenship between 2016 and 2019, followed by Afghans (431), Bangladeshis (132), Sri Lankans (92), and US (80).
In addition, as of December 2021, 7,306 of the 10,635 applications pending at MHA were from Pakistan, 1,152 from Afghanistan, and 428 were stateless persons. Sri Lanka and the United States are also among the top five.
At Immigration Experts, we guide your clients with the best possibilities of moving to Canada (https://www.immigrationxperts.com/canada-immigration/67-canada-immigration-point-system/) with regards to their professional background.
To Stay Updated on Canada Immigration News, Subscribe to Immigration Experts
NEWSLETTER: https://www.immigrationxperts.com/newsletter/
Fill up our Free Evaluation Form and take the initial step towards your Visa and Immigration Process.We are available for ONLINE CONSULTATION!
Contact Immigration Experts for FREE Points-Based Assessment of your profile: Drop us an email at: info@immigrationxperts.com
Give us a call at: +91-9999467686, 0120-6618011, 0120-6618123
Book your appointment with our experienced immigration counselors and solve all your immigration-related queries at the comfort of your home.
We are available on Skype:  Immigrationxperts.com
Achieve your Immigration dreams with Immigration Experts